When we landed in Cairns we felt the weather difference… so hot and humid! A feeling of barely being able to breathe for a few minutes when we went outside of an air-conditioned building, but so nice after a few cold days down on the Bellarine Peninsula.
We stayed in an hostel not far from the center of the city, where the beach, the harbor and the lagoon is.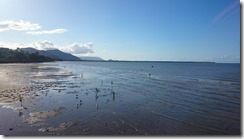 Beach in Cairns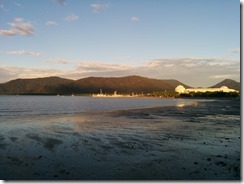 Harbor in Cairns
We hung around for 2 days, had some drinks with Amy and Isaac (who I met 4 years ago). It was a nice time that we spent talking about travels again and catch up. As did not wish to spend hundreds of dollars on a trip to the Great Barrier reef again nor a rain forest tour, we looked for our possibilities to go down along the coast. Our plans changed about 3 times, but we eventually made it to decide of our trip. We got on a bus to Townsville in the evening and arrived in the middle of the night in an empty bus (just us 2 and the driver), where we walked for a long half an hour with our backpacks (a little bit heavier now as we bought some working clothes and food) to our hostel.
We spent 2 days in Townsville, the first one, we walked all along the beach, it was so hot I wasn't walking really fast… not sure I would have walked that much more in the end of the day, I was exhausted! But nice beach to hang around and have a lunch break under palm trees in the sand. Not safe for swimming though with the stingers. (like in most of the beaches in this area, adding the crocodiles, snakes and sharks…)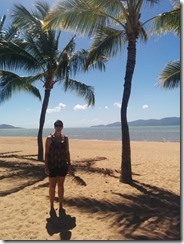 Along the beach in Townsville
On the second day we took the ferry to Magnetic Island, and spend the day walking around, watching a koala hiding in a tree, resting on the beach, swimming in the waves… a real holiday day!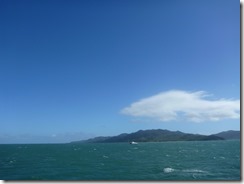 On the way to Magnetic Island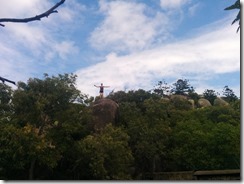 Walking up to the forts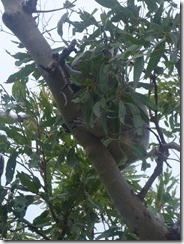 Can you see it? He did not want to get out of behind the branch for the photo…
Beaches on Magnetic Island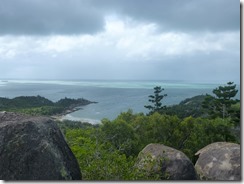 From the old forts on the hill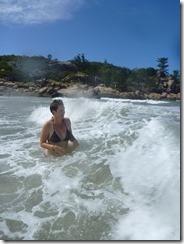 Having a bit of fun in the waves… (trying to find refreshment in the water… well, tropical water = warm water…)
We met the last evening for dinner with Jan and Rob from the station where Alex stayed 4 years ago for a few months. They came to Townsville for a few days break and to do some shopping. They picked us up the following morning for a 6 hours drive back to their station, near Winton, in the middle of the Australian Outback.