So, since we landed in Auckland in June, we mostly stayed at Warkworth Lodge, helping with a lot of different things. During that time, Alex and I wrote our CVs, found some jobs to apply for, wrote cover letters and applied. Alex found a job, he started middle of August. I am still looking for one! The whole process of looking for a job in NZ will probably be an article itself one day.
So, with Alex having a full time job in the city center, we had to move. The trips from Warkworth were a bit too long. So we started viewing some places, and realized our budget was a little bit too low after the first 2 houses. Yes, houses! It is as expensive as a flat, and there are not too many flat buildings anyway here. So there are houses to visit!
Our requirements were:
– close to public transportation with a travel time to the city center that is less than 40 minutes
– garden space to plant vegetables, hang around, have a barbecue
– no neighbours above or below
– off street car park (driveway or carport or garage)
– at least one bed room separated from leaving room. Better with 2 bedrooms to be able to host guests!
– wooden floors (carpet is terrible for maintenance in the living and dining room)
– sufficient insulation (almost impossible to find in New Zealand though)
– away from road noises and from highway
– sun exposition (to avoid damp rooms that never see the sun)
– white ware (as we don't have much here, we were keen on finding a place already furnished with washing machine and fridge!)
– furnished (almost impossible to see anything furnished! so we gave up…)
So of course, we had a look a a few places, drove pass a lot, had several viewing (about 10) before we decided to rent our little house in Onehunga!
– about 35 minutes to the city center, from the door step, walking to the train station and sitting in the train for 20 minutes!
– we do have a garden, we can walk around the whole house, we have trees (apples, lemons, peaches), an outdoor clothes line, (and one under the car port)
– it's a house, on it's own, so no neighbours above or under!
– we have a carport, hidden from the street
– we have 2 bedrooms (yes, you can come and visit us!)
– there is wooden floor, but it's under the carpet, unfortunately… so we bought a second hand vacuum cleaner a couple of days ago!
– insulation… yes well, for now it's cold (good that we have a heat pump) and it's probably going to be super hot in summer (good that we have the air conditioning)… and if you put your hand under the window, on the wall, well, you can feel an airflow…)
– we are on a small street, and at the end of a driveway. So we are not even on the small street! The highway is 2 km away, so we do not hear it, and we do hear sometimes cars or motorbikes driving super fast on one of the other streets around, but it's not too bad!
– we will not have damp problems: the house gets the sun from dawn to dark… it will be hot in summer!
– there was already a washing machine, a fridge/freezer, a stove, an oven and a dishwasher. Good start!
– Not furnished a all, just an old wooden table in the car port that we cleaned and use as our dining table.
When we moved , we did not have too much with us, so it was quite fast and easy!
Thanks to Liz and Geoff, we are quite furnished now. They lend us pretty much everything! We also found a couple a things on local websites for second hand things and the op shops.
So here is our place, after a bit of furnishing: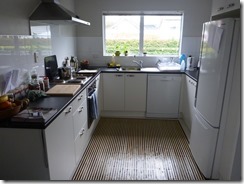 Our large kitchen, with a great fan oven!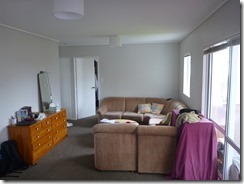 Our lounge… huge couch!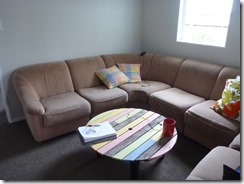 our beautiful coffee table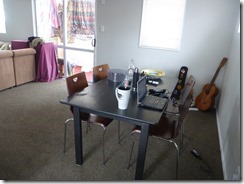 Our dining area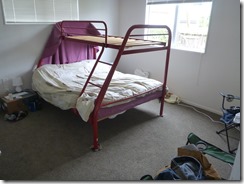 Our bed room (with the beautiful bed side tables made out of boxes)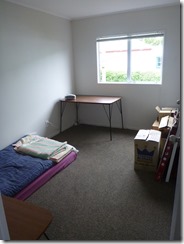 Our spare bed room (for now it is not really furnished… but we have a single mattress in there (from the bunk bed)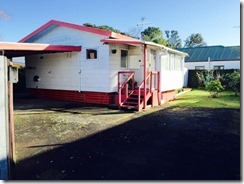 Here it is… our place!