After the epic adventure on Skippers Road, we drove further south and aimed for the Milford Sound road. We stopped on the way at Steve and Kelly's house to say hi and enjoy a nice tea and cake. For those who don't know, Steve is the brother of Geoff from Warkworth lodge! My last adventures around Lumsden with Steve and Kelly were when my van broke down 4 years ago… https://www.froginette.org/ile-du-sud-partie-3/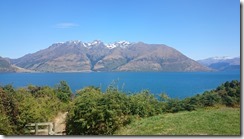 Lake Wakatipu
The drive to Milford sound is amazing with any weather… We stopped for the night at the bottom of Lake Gunn and kept driving in the morning through the mountains, at the feet of the snow, through Homer Tunnel… and made it to the fjord (because Milford sound is actually not a sound but a fjord : sounds come from rivers and fjords from Glaciers. There was a mistake made when it was named!)
Eglinton Valley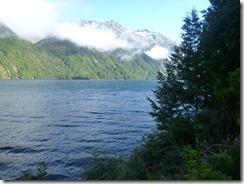 Lake Gunn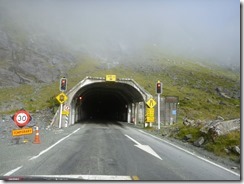 Homer Tunnel, one lane, no lights inside, and steep down!
We took a cruise on the fjord and learned a lot about fauna, flora and geology of the area… we got showered at the big waterfalls, watched some fur seals and some fish at the floating deep water observatory. It is an observatory where we could look at the fish in their environment because we were actually in a small aquarium and the fish were free!
The beautiful Milford sound…without rain this time!
Then we headed back and travelled to Te Anau (the closest town) with a couple of Swedish that were hitch-hiking. We had nice talks about what to do and where, they gave us tips on where to spot more seals, dolphins and penguins.
After a refueling and a bit of food shopping for a fire cooked dinner (no fire ban in Southland nor Fjordland!) we drove (with another hitch-hiker) to the lake Monowai and camped there in the forest. We wanted to make our bonfire but as we saw some people that already had one on going, we just joined and cooked a nice dinner: Chopped potatoes, swedes and carrots with herbs and oil in aluminum foil bag in the fire and steaks cooked in a proper pan (thanks to the people that shared their fire with us!). This was a nice proper dinner. The smell of fire was also really missing from our trip but unfortunately most of the regions we travelled through were in total fire ban because of droughts.
So we woke up smelling like smoke, hmmmm nice! and with a little bit of rain. We drove to Invergargill to get information on how to get to Stewart Island the next day and organize a 3 days hike there. We booked our ferry (even though we heard people saying that it was terrible – seasickness) for the next morning and went to the beach to hang around in the afternoon, near Fortrose.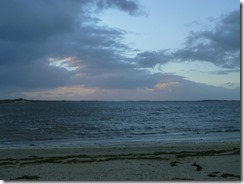 Fortrose after sunset
After a nice sunset, and a resting night, we drove to Bluff, parked our car in front of the police station and walked to the ferry terminal. When I saw the size of the ferry I thought about running away but I did not and walked in. Well a catamaran with about 60 seats, really flat, does not inspire much stability for the crossing of Forveaux Straight. Well, it is one hour crossing: I told myself I will be fine, even if I get sick and throw up, I can not throw up more than 3 times (time to get sick and then every 15 minutes… it sounds realistic). But I did not really want to be sick! So I sat, listened to what the skipper and the crew were telling us and got already worried when he said we would sail 20 knots/hour… meaning roughly 40km/h… that is fast, especially when he said that the high tide was coming in so we would have the big swell against us…

Then we left, the catamaran got faster and we could really really feel the big swell… so much that I could not see the horizon through the window because of the movement of the boat (so it was view on water, sky, water, sky, water, sky… beeeerkkkk) and also because of all the splashes of water… I started feeling sick and stressed, after 5 minutes of the trip. Luckily, I spotted where the motion sickness bags were located: I could reach them from where I sat (anyway they were everywhere…). And then, a big wave that we obviously took the wrong way, took the boat from the unexpected direction (as we felt and saw the reaction of the skipper) and the boat was suspended in the air for a few seconds (at least it felt like it, maybe it was not even a second) and fell down pretty violently back in the water. People screamed, and the skipper dropped the speed down instantly, and stopped all the power… I started being pretty scared. My hand was holding the bar on top of the seat in front of me and I did not release it until we arrived to Oban, on Stewart Island. It was so tight that my joins were almost stuck… The rest of the crossing of Forveaux Straight was really swelling, a few people threw up, but I managed to keep everything in!! I needed 2 hours after we arrived on dry land to feel better.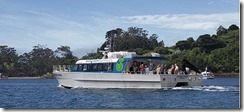 This is how big the ferry was, and for ours the water did not look like this at all (blue and flat, but grey and wavy!) and we could not have been standing outside on the deck!
This was quite an adventure already, just getting to the Island!
When I felt better, we started the 3 days Great Walk. The 5 first kilometers were along the road, going from one bay to another, until the track started at Lee Bay. We met a couple of people on the track, and met them later again at the campground and hut. The first day hike was pretty short, we arrived at our campground at Port William around 3 pm, which left us a lot of time to rest, hang around at the beach, read a book, look at birds, talk to the other trampers. In the evening, we stayed outside a little bit to wait for a kiwi to show up… unfortunately, nobody showed up. (Seeing a kiwi in the wild was one of the reason that we came to Stewart Island) Yes, we did see big black possums… but they do not count!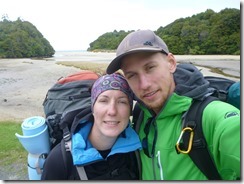 Ready for hiking!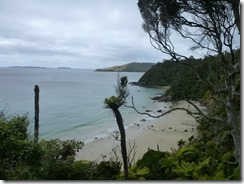 Lee Bay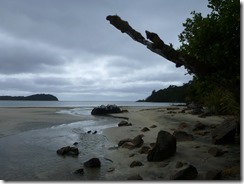 Port William beach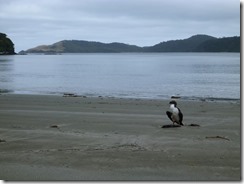 A bird looking like a penguin but that is not a penguin (it is a shag)
The second day was mostly in the forest, we did not have much views on either side of the track, it was even pretty tricky to find a spot with sun and space to sit aside of the track for lunch. We refilled our water bottle from a dark river… water a little bit looking brown, but good for drinking!
We tried to see some birds, or to listen to them, but we did not really manage to spot many… probably we were not patient enough when we stopped, and also probably because when I walk I watch my feet! Which is bad for birds but safer though…
The couple of persons who were following us (about 10 minutes behind us) met a kiwi on the track! In the middle of the day! We missed it, we were so close… I felt so jealous!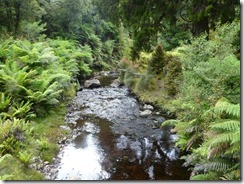 The colored water river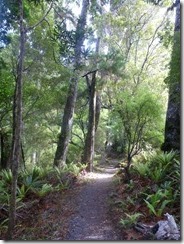 The track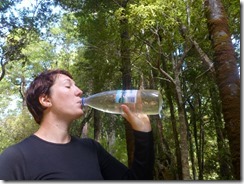 Drinking the dark water from the river
This day ended at North Arm, with an access to the beach. Nice spot to hang around again for the afternoon! I realized there that bumblebees like blue color… I couldn't read my book with my blue jumper on! The bumblebees would come around me all the time! We found some flax and hung around trying to apply what we saw in Rotorua (weaving or getting the fiber of the leaves and make strings or so…). Eventually it was time for dinner again, unfortunately it was spicy food again… We bought the dry freeze food for tramping, which taste really nice and surprising for dried food where you just have to poor boiling water on and wait 10 minutes. So I ate a little, good that we had dry fruits and cereal bars to help with the burning sensation in my mouth! Next time we take Shepherd pie or Spaghetti Bolognese! No more fancy meal name with curry or tika something!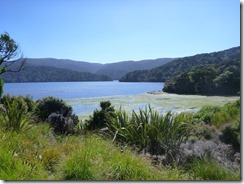 North Arm Bay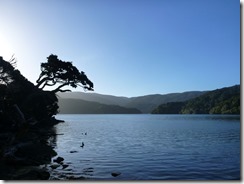 Beach at North Arm
We did not see any kiwi around the hut or the tent at night, but wild cats! So cute little black cats, that are actually pests here, and not pets! Well, they were imported and are killing the endangered birds here, so it is understandable. (even if they are kind of cute).
We got up before 6am the last day, for 2 reasons: First of all was to try to see more wildlife on the track if nobody has been walking before us, and second was to try to use our afternoon to get to Ulva Island, which is pest free and and open sanctuary (a place where native plants and birds can live in a safe environment and the public can enjoy them) before taking the ferry back to the mainland in the evening. This track was the nicest of the 3 days, going into the forest, along beaches, crossing rivers, along bays… and it was an easy walk, no height difference (or almost).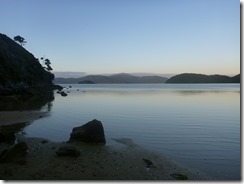 Sawdust Bay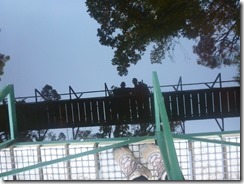 Perfect mirror river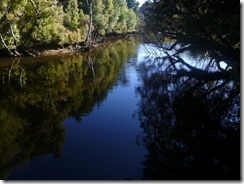 Dark river near Kaipipi Bay
We arrived around noon at Oban (the only town on Stewart Island) and found a taxi boat to drop us off on Ulva Island for the afternoon. We got an interesting booklet about the bird and plant lives on the island and started wandering around to get to see some birds. We ended up seeing a lot of them, listening to their melodies, learning and observing some plants… and having a nap on Boulder beach.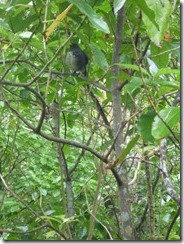 Stewart Island Robin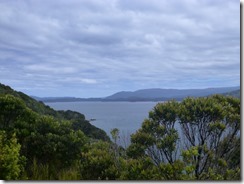 Flagstaff point, view on Stewart Island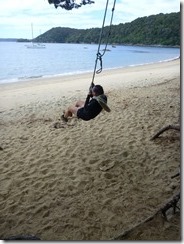 Swinging at Sydney Cove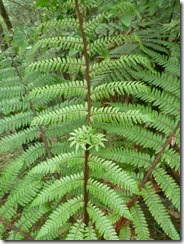 The twisted fern leaves (built by a roller caterpillar, to be able to eat)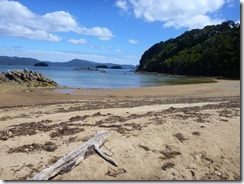 Boulder beach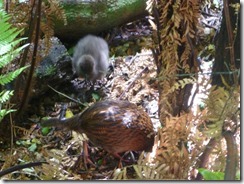 A weka and its baby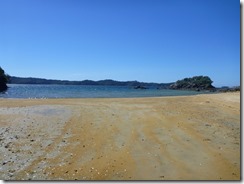 West End Beach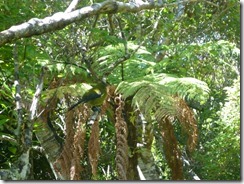 Bellbird
While walking, we almost missed a sea lion mother and her baby sleeping right next to the track! It was a huge animal, I have never seen any this close!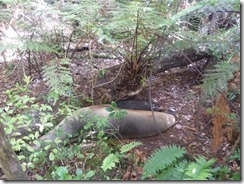 A sea lion and its baby sea lion
It was unfortunately time to go back to our taxi boat 4 hours later, which was almost not enough to see everything! But it was really worth it to come to this sanctuary. This made us catch up with all the birds we missed on the great walk! (but we still did not see a kiwi…)
Waiting for our ferry, we had a refreshing beer at THE pub of the island, with a couple of trampers that we met on the track.
The trip back with the catamaran ferry to Bluff was calm, I did not have to hold myself that strongly to the seat in front of me, everything went fine and I did not feel sick at all!
We drove back to Lumsden to Steve and Kelly's place and have a nice quiet couple of days with showers, a laundry machine and an amazing bed to sleep in! This was a great break in our trip. We went for half-day walk on the end of the Kepler's track, near Te Anau. We walked along Waiau River and through the forest to end up at Shallow Bay on the beach. We got really nice home made dinners from Kelly, watched movies and felt like home! We tried for a lunch some Beefalo pies and Doughnuts that were really nice at Bafe Bakery, in Lumsden. Really nice and friendly owners and good food!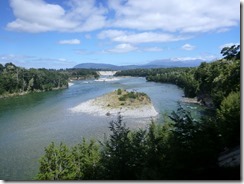 Waiau River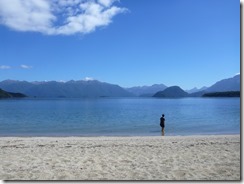 Shallow Bay
We left Lumsden on Sunday, the 15th of February, and went down south again, to drive along the south-east coast.