As we could hear the sound of the rain when we got up, we decided to hang around inside a bit… and read the hiking books that Colton had and the lonely planet and the tips that I got from different contacts / friends/ family… Thanks to all of that we planned our afternoon and the next day!
So we managed to get out around 12 and went to the Martyr's shrine. We had a long walk along the river (too long, we were stuck behind a wall and we couldn't  go to the shrine, we had to pass it and come back on the other side of the wall…
well, as it wasn't raining too much, it was alright!
The buildings of the shrine are beautiful and it was completely empty, except the 2 guards at the main gate and the 2 guards at the entrance of the shrine.
Then, the time of the guards changing approached and crowds of people got off buses, and entered the quiet area… Then 2 new guards arrived, wit 2 persons holding umbrellas for them, then they exchange places with the previous guards, turning around their weapons and slamming their feet on the floor. And that was done. a bit disappointing when you expect a changing of guards, but at least I guess it is efficient.
I was glad that we arrived way before the crowds of tourists to see the place in a quiet and respectful environment.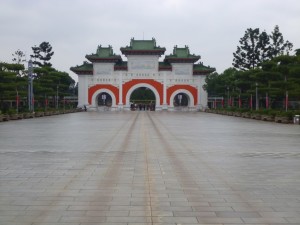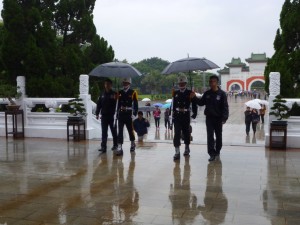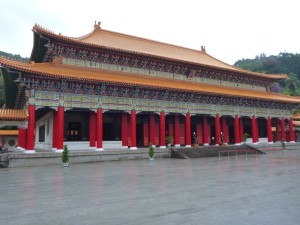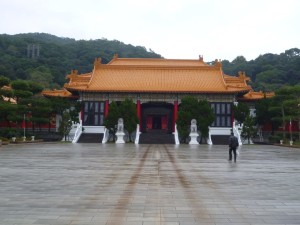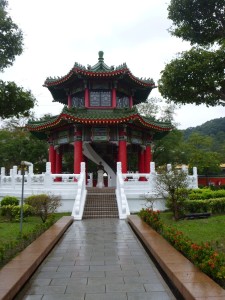 When we had enough of tourists, we walked more, passed the Grand Hotel, tried to have some lunch in small streets where they clean the dishes on the street (like everywhere though) and we ended in one place where we had no idea what we ordered and an other one where Alex could order everything in chinese and he knew what it was! Then took the metro again (so cheap and so easy to use!) to go to the Longshan temple. At 4.00 pm everyday, singers and whisperers gathered and pray… it is the best way to have a real look at the temple.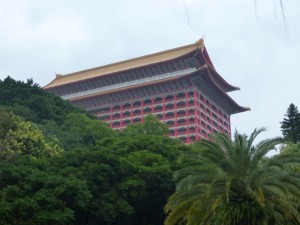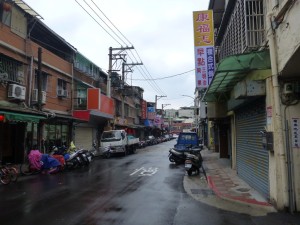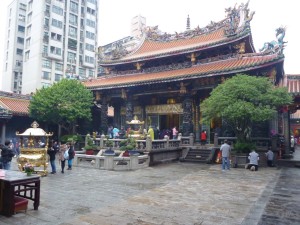 Then we went back to our couchsurfing hosts to have a hot pot dinner! I have had one experience of hot pot before (in Germany) , but this one was special! First of all, we had to wait ages in front of the restaurant that we can get a table for the 4 of us… then we got it! There were individual hotpots (a pot inside the table where some stock is boiling), each of us got rice or noodles, a big plate full of vegetables and tofu pieces and weird mashed see food balls, and we ordered each of us a plate of thin sliced meet. We made our sauce out of garlic, pepperonis, soy sauce, vinegar, and a paste that I have no clue what is in but tastes good, and the show began. We threw in everything (with chop sticks / or fingers) and took it out (still with chop sticks) when we thought it is cooked, then ate it (yes, with the chop sticks!)
Sorry no picture of this because we were so hungry that we all forgot!
We were really full, but went through the local night market and found out some more local food… some kind of waffles filled with cream, some fruits dipped in sugar on a stick, some more stinky tofu, and a lot more…
Then we headed back and had another good night of sleep before the last day.