The last day (05/12/2014) we managed to get up early enough, get to the metro, try to find a bus and get help from a local at the bus stop to find the right bus and explain to the driver where we wanna go… we ended somewhere at an "end" of the city and starting walking in the direction of the forest and the mountains.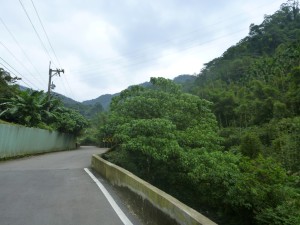 We were reading the book from Colton while walking, and it was really accurate to explain which way to go and where. It was a really nice place because there were only locals. I don't think the roads and paths we were taking were used by many foreigners. It was great to be able to do something completely different than what tourists get to do. Thanks to couchsurfing tips
After a few kilometers, on marked paths and stairs/ steps made out of logs, we found a small temple in the mountain's rocks, behind a waterfall. There was one woman there, taking care of the temple, cleaning up. It was nice and interesting.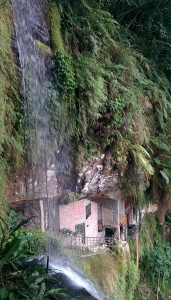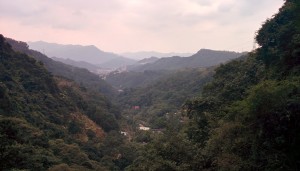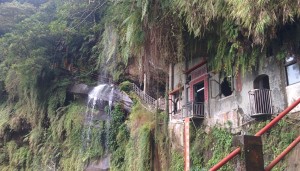 Then we kept walking up hill, arrived at a small house and vegetables gardens, where the book said we could find a lady selling tea, but nobody was there. Afterwards, the path got a bit wilder, and was crossing a small stream. It was in the middle of nowhere, like feeling we were in the jungle, hundreds of kilometers away from civilisation… but we were roughly 2 or 3 kilometers away from Taipei city, which is a city where 2,6 million people live in – and the whole metropolitan area is 7 million people -. It was just amazing how fast you can get into the wilderness 🙂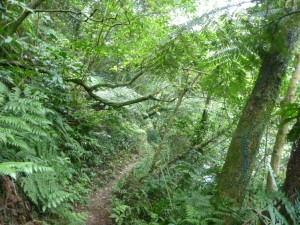 This kept me happy the whole hike, until we could not find the path anymore… so we went back on our tracks, tried to figure out something and found the right path (which was looking like a river bed) after a little moment where we were not sure anymore where to go. On that last part to the top, we disturbed so many birds and probably animals of every kind that it looked like nobody had been walking that track for ages.
Then we made it to the top, it wasn't too much of a view because of really high trees, but it was just a nice feeling that we got to be in the wild for a bit, off the tracks of normal tourists that we found at the bottom of long stairs going back to the gondola station.
Then we wanted to have the "tea ceremony"…
So we looked in the first shops / restaurants on our way and were not really interested because they looked like tourists shops. We went further away on the road and found a restaurant that looked a bit more local, and they had these tea ceremony "kit". So we go in there, got our "kit" and likely it was all explained in the book from Colton what we had to do with it, because the staff in this restaurant spoke no English at all and didn't show us anything. The previous experience of Alex in China also helped because he had seen it already.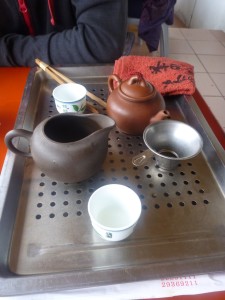 After a little a bit of eating (with chop sticks) and some tea, we left with the rest of the 200 grams of green tea we bought and didn't drink. The restaurant was not that good in the end, so we tried the touristy Tea House, which was having free tasting of one of their tea, doing the whole tea ceremony thing and explaining (in Chinese) what were the steps of it… So in the end it was quite nice to go into this one, where we bought some more tea.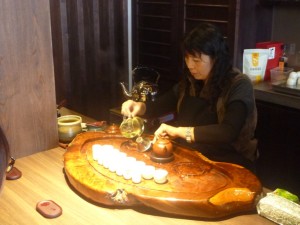 We headed back to the city with the gondola, the one with a glass floor of course, to see under our feet! (Nothing compared to the Aiguille du midi one last August) With a clear view above the Taipei city, hills and forests, it was a nice half an hour way down.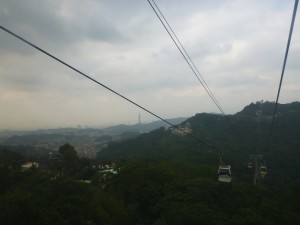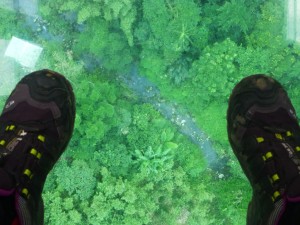 We then decided to go to the Sun Yat-Sen memorial to have a last look at Taipei 101 from the bottom, with a clear sky, which was a nice idea!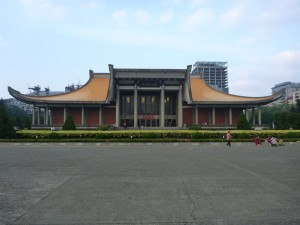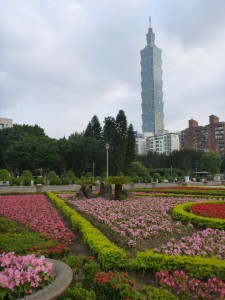 It was eventually time to go back to Colton and Jamie's flat to pack our things and leave to the airport, to our final destination: Auckland!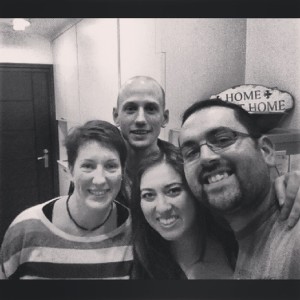 In a few words…
The most traumatic (which is not THAT traumatic) experience of the few days in Taipei was the way of eating: chop sticks for every meal! Breakfast, lunch, afternoon snack, diner, soups, dumplings, meat balls… all with chop sticks!!! I got cramps in my right hand (don't ask my left hand to do things like using chops sticks!) and i spilled some of each of my meals on my t-shirt, scarf, jacket or pants… 🙁
A few random pictures taken in Taipei during this short stay: